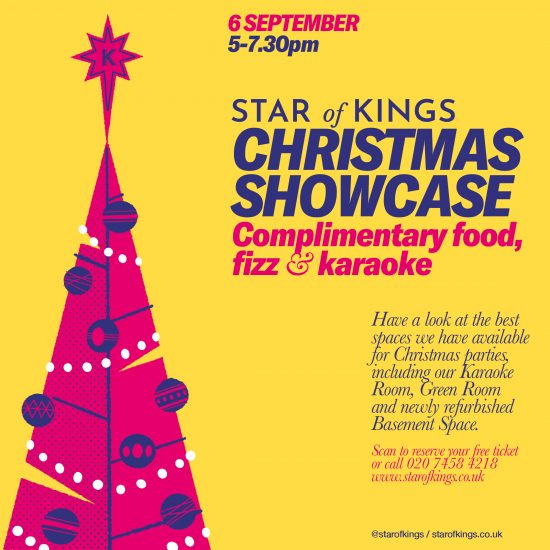 The Star of Kings Christmas Showcase
Get ready to kick off the festive season in style at The Star of Kings! Join us on the 6th of September for a sneak peek into the ultimate Christmas party experience. Explore our fantastic venue and discover the perfect spaces for hosting your upcoming Christmas celebration.
Explore the enchanting spaces available for your Christmas party, including:
Behind The Bookcase Basement: A hidden gem beneath the surface, ready to host an unforgettable gathering.
The Green Room: A vibrant and versatile space, perfect for a lively and memorable celebration.
Private Karaoke Room: Sing your heart out in our exclusive karaoke haven, an ideal spot for a unique party experience.
Here is what you have to look forward to:
🌮 Culinary Delights: Indulge in the delectable flavours of Breddos Tacos! Sample a selection of mouthwatering tacos that will tantalize your taste buds and set the tone for a festive feast.
🍹 Amazing Drinks: Discover a select range of festive drinks to elevate your Christmas celebration.
💃 Exclusive Offers: Take advantage of special offers and packages available exclusively to event attendees. Kickstart your holiday planning with a head start on the festivities.
Whether you're planning a corporate holiday gathering, a family get-together, or a friends' reunion, The Star of Kings has the perfect setting to make your Christmas party unforgettable.
Don't miss this exclusive preview event on the 6th of September! Mark your calendar and join us for an evening of merry moments, tantalizing treats, and a glimpse into the magic of Christmas at The Star of Kings.
Grab a free ticket to reserve your spot.