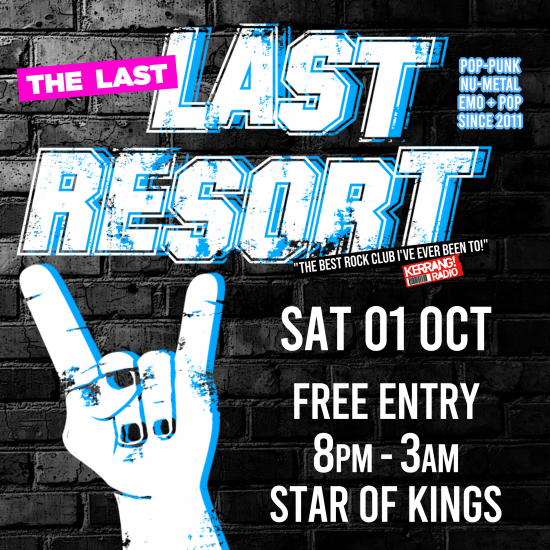 Sat 1st Oct
8:00 pm - 3:00 am
Description from the Last Resort Team:
Nothing lasts forever – so after more than a decade under the influence, 11 years of creating panic at the disco, leaving salt sweat and sugar on the dancefloor, fat lips and breaking stuff, we're hanging up our headphones and megaphones for good.
We started Last Resort back in 2011 as a gang of friends that wanted a rock night without barriers – pop and metal side by side, no charge to get in – because only shooting stars break the mould. Since then we've thrown 100 riotous parties (including sets at Reading, Download and the Kerrang! Awards), and have countless tales to tell: The bride and groom that came straight from the ceremony. The 'pint in a plug socket' singalong. The time you handed us bits of the ceiling over the decks. The time someone lost a tooth in the pit. The set so heavy it broke someone's ankle. But we're growing older all the time, looking older all the time (though feeling younger in our minds). To try honesty: So sorry, it's over – and we're not OK, we promise.
Say it ain't so? Well, there is some good news – we wouldn't leave you without one final epic chance to party hard. Tell all your friends: We might be calling time on LR but still we're trying one more time.
So, if you ever said 'Hey bartender, hit me with a double', came in through the window last night, were acting stupid getting drunk with your best friends, or smokin' cigarettes and sippin' vodka at our little clubnight; then take a brush and put a little makeup, invite all the boys the dancefloor didn't love, and the girls whose lips couldn't move fast enough, and join us at Star of Kings, Kings Cross on Saturday 1st October, 8pm – 3am to sing – until your lungs give out.
Before we face our shitty future without a Last Resort in the calendar, make damn sure you're there for the last chance for a slam dance. If you could, then you know you should – 'cos god it just feels so good.
To everyone that's played a part in the LR story – thnks fr th mmrs. You were everything we wanted, but it turns out we can finish what we started. We are more than just good friends – this is how the story ends. It's something unpredictable, and in the end it's right: We hope you had the time of your life.
Cut my night into pieces – this is our (last) Last Resort.