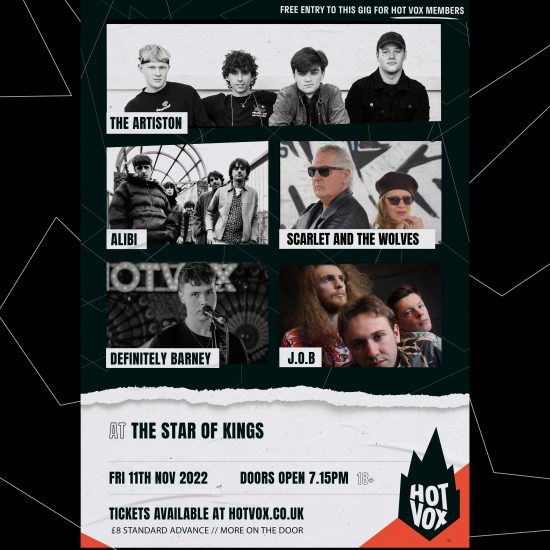 HOT VOX Presents: The Ariston // Alibi // Scarlet and the Wolves // Definitely Barney // Oliver Anderson
Fri 11th Nov
7:00 pm - 11:00 pm
HOT VOX Presents: The Ariston // Alibi // Scarlet and the Wolves // Definitely Barney // J.O.B
Minutes from Kings Cross Station, Star of Kings, with its 3 floors of entertainment, is the perfect place to watch or discover your favourite new bands.
Join Hot Vox in the basement for a night of killer sound, music and drinks!
The Ariston

The Ariston are a teenage Indie/Alt Rock band based in Southeast England. With fans eager to hear their music, they released their debut single 'Yellow Lines' on August 26th, 2022 – having only been together under a year. Through their determination and ability to deliver, they have been busy gigging in venues including The Star Inn in Guildford (where The Stranglers made their debut), as well as Marshall's 60th Anniversary Hanwell Hootie and Pennfest. The Ariston have also played venues and major stages already, including The Bedford in Balham and Twickenham Stadium.
 Following a victorious summer of festivals and headline events this is a space you'll want to keep an eye on.
Alibi

Alibi are a new band formed during the height of lockdown. Three of the five members, Laurie, Stan and Connor, grew up together in Penzance, Cornwall, and moved up to London about six years ago. Forming in 2020 – Mickey and Joe came along soon after. They play loud, distorted, anthemic Rock n Roll you will wanna dance and sing your heart out to.
Scarlet and the Wolves

Scarlet and the Wolves are a new alternative rock band set to take London by storm. Their unique blend of rock, blues and Americana fusions pack a hell of an emotional punch.
At the heart of it all are the creative writing force of Lucy Bradshaw and Graeme Hill who are the brains behind the cleverly woven sound. Lucy aka (Scarlet) is the lead singer who fronts the band and blends the emotive power of Stevie Nicks and Joni Mitchell in her vocals/songwriting. Graeme aka (Grey Wolf)pulls it all together into a winning formula.Their fresh and original collection of songs are guaranteed to have you 'howlin'! Their latest single "Love is like Bird" an epic sounding rock ballad" is out now!
Definitely Barney

Hiya I'm Definitely Barney! Like songs that make you walk like a badass with riffs and catchy hooks out the wazoo? Let's blow the roof off and have the most amazing time together and unite over live music.
Much Love
Barney (not legally affiliated with the dinosaur)
J.O.B

Here to take you on an emotional journey, J.O.B are a progressive and alternative rock trio from East London redefining the rock genre, making you cry, headbang, and sing along on the way. The band have recently undergone a small tour of London, released a music video with over 3k views, and been played and interviewed on national radio shows touted as "going to be stratospheric" – Delux Radio. They've been actively releasing new music with "The Powers On High" named "a belter" – Phoenix FM with "insane guitar work" – BBC Essex and new single "So I Can Remember" warranting a live audience member to review that "there is a gap in the british rock scene that these boys are meant to fill"