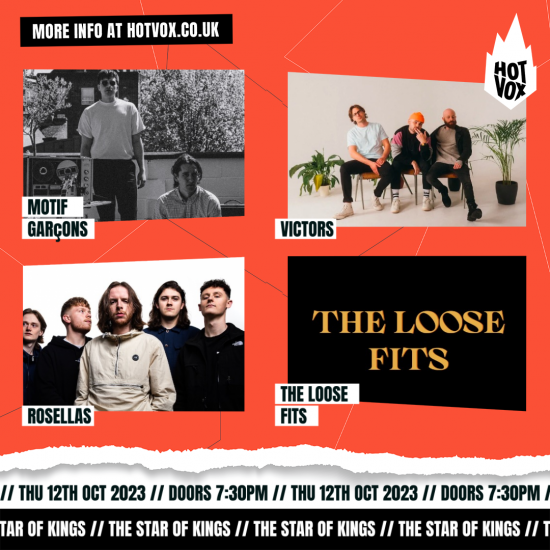 HOT VOX Presents: Motif Garçons // VICTORS // ROSELLAS // The Loose Fits
Minutes from Kings Cross Station, Star of Kings, with its 3 floors of entertainment, is the perfect place to watch or discover your favourite new bands.
Join Hot Vox in the basement for a night of killer sound, music and drinks!
Motif Garçons
https://hotvox.co.uk/artist/motif-garcons/
Motif Garçons is a newly formed indie rock band from London. Created by frontman, Eric Maudhuit, the band is looking to leave their own unique mark on the genre, whilst heralding the traditions of such indie rockers as; the Arctic Monkeys, the Kings of Leon and the Killers. So don't be surprised if you find yourself hands aloft and singing along to songs you feel you've known for years thanks to catchy riffs, memorable hooks, and contagious animation on stage. Les garçons are now off to the renowned The Star of Kings for their next performance on the 12th October, where they plan to establish themsleves as one of England's up and coming bands with the release of their first single.
VICTORS
https://hotvox.co.uk/artist/victors-2/Blurring the lines between 80's dream pop, indie rock and atmospheric electronica, British group VICTORS continue to evolve and mature their sound with every release. Officially formed in Leeds during 2016, Harry Irving, Simon Appleson and Leon Davies take inspiration from the likes of Bon Iver, Frank Ocean, The xx and Phil Collins.
ROSELLAS
https://hotvox.co.uk/artist/rosellas/Rosellas are named 'Ones To Watch' in 2023 by Radio XS Manchester & Louder Than War Magazine.
Rosellas have the tunes to make their ambitions a reality as they proved with their latest release Somewhere Inbetween. The EP went straight to Number #1 in the iTunes Rock Charts and Number #4 in the iTunes UK Album Charts, as well as gaining constant support from legendary tastemakers such as John Kennedy (Radio X) and Jim Salveson (XS Manchester).
Off the back of notable successes, Rosellas sold out their biggest headline show to date at Band On The Wall in Manchester in September 2023. After selling out every hometown show since the start, this was a pivotal moment in the bands career.
The Loose Fits
https://hotvox.co.uk/artist/the-loose-fits/The Loose Fits are a 4 piece Indie-Rock band based in Brighton, with a dynamic and versatile sound ranging from the heavier, moodier strands of Indie Rock to the softer, reflective melancholy of Folk.
The band is comprised of both guitarists and songwriters, Joseph Herman and Shi Lawson, the bassist Daniel Copitch and drummer Sophie Moloney.
Herman, Lawson and Copitch have known and been friends with eachother since childhood, and met Moloney during their time at the Unviersity of Sussex. The four's friendship outside of the band has been an integral basis for the band's musical chemistry and allows them to be themselves in a creative and performative environment.