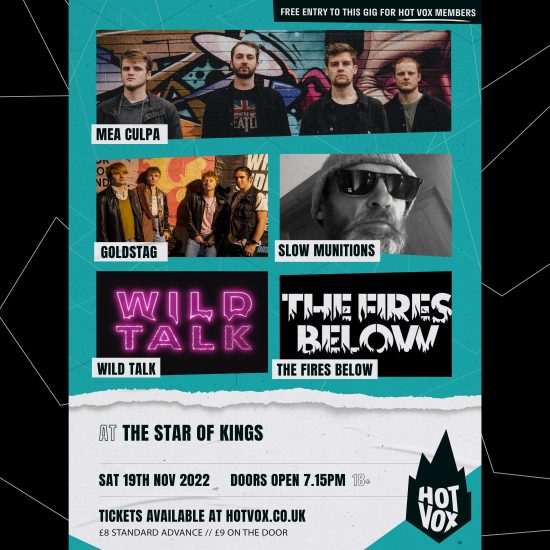 HOT VOX Presents: Mea Culpa // Goldstag // SLOW MUNITIONS // Wild Talk // The Fires Below
Sat 19th Nov
7:00 pm - 11:00 pm
HOT VOX Presents: Mea Culpa // Goldstag // SLOW MUNITIONS // Wild Talk // The Fires Below
Minutes from Kings Cross Station, Star of Kings, with its 3 floors of entertainment, is the perfect place to watch or discover your favourite new bands.
Join Hot Vox in the basement for a night of killer sound, music and drinks!
Mea Culpa

Mea Culpa are a four piece from London making indie rock that's loud, high energy and doesn't take itself too seriously. Drawing on influences from the likes of Oasis, The Who and The Clash, our songs cover themes of love, loss and what it means to come of age in modern Britain. New single "Why Don't You Come My Way?" Out now.
Goldstag

The lovechild of Queen and Dua Lipa born at Imperial College, Goldstag offer an anthemic and funky dance-rock sound that flicks between a rock concert, cocktail bar and nightclub.
SLOW MUNITIONS

Slow Munitions are an Anglo- American psychedelic rock band from London, England. Formed in March 2022, they took their name from a century of the magic-bullet theory.
The band's Centennial EP was recorded at The Albion Rooms studio in Margate.
Filmmaker Sam Rowland shot the band's video for Centennial at Brixton Hill Studios.
Drums – Ben Chang
Bass Guitar – Matt Jury
Guitar & Vox – Matthew Jure
Wild Talk

Wild Talk elegantly straddles the line between gritty rock revelry and fizzy pop confections, leaving audiences simultaneously caught between shaking their hips and thrashing their hair. Overheated numbers like "Lips That Kill" and "Shake" flaunt a lusting red haze, while cheeky sing-alongs like "Hold Me Down" make sardonic cracks through broken lips. Arena-ready anthems like "Nicotine Tears" are a testament to Wild Talk's insatiability for audience involvement, leaving first timers with whiplash after seeing their high octane showmen cavort across the stage. Wild Talk create an addictive sound and show that leave listeners jonesing for more.
The Fires Below

The Fires Below are a new explosive heavy rock band emerging from the darkest depths of London. Forged in the hellfires of 2022 their monstrous music spawned during the great plague of modern times. Their colossal heavy sound and intense musical energy will ignite that little mosh demon within your soul. Merging irresistible hooks and thundering guitars, bass and drums the band set to melt your brain and leave you wanting more.
The band started as a lockdown project by frontman Smithy. Their music collaboration began remotely but soon after covid restrictions were lifted, all four members came together in West London to unleash their new rock fury. Their debut single 'Normality' is out now.