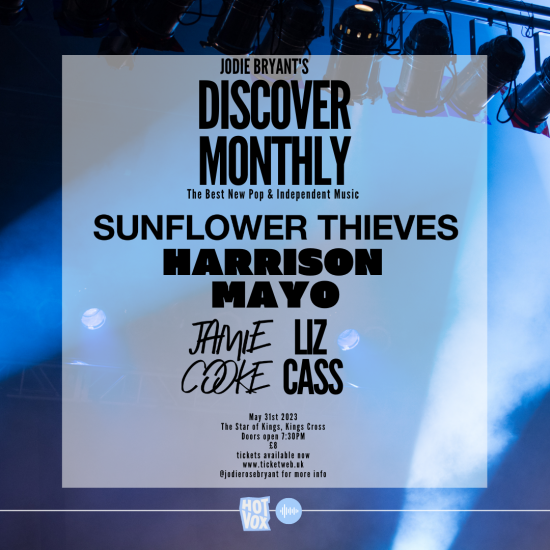 HOT VOX Presents: Jodie Bryant's Discover Monthly ft. Sunflower Thieves // Harrison Mayo // Jamie Cooke // Liz Cass
Wed 31st May
7:00 pm - 11:00 pm
HOT VOX Presents: Jodie Bryant's Discover Monthly ft. Sunflower Thieves // Harrison Mayo // Jamie Cooke // Liz Cass
Jodie Bryant hosts 'Discover Monthly' which takes a look at the best new music across the globe every month. With previous interviews including Arlo Parks, Matilda Mann, HYYTS and Priya Ragu … you know we have good taste!
Jodie is curating the 'Discover Monthly Live Showcase' in partnership with Hot Vox and we are bringing the show to real life with some of the best undiscovered talent performing live at The Star of Kings – Wednesday 31st May. We are excited to present to you a strong lineup consisting of Sunflower Thieves, Harrison Mayo, Jamie Cooke and Liz Cass.
The gig will get you ahead of the game and put these artists on your radar before they're on everyone else's – so make sure you come down to hear some of the hotly tipped artists for 2023! Do not miss!
Tune into to Jodie Bryant's Discover Monthly Podcast in association with Hot Vox for exclusive interviews, new releases, breaking acts and to discover your new favourite artist. www.discovermonthly.co.uk
Sunflower Thieves

Sunflower Thieves are a strong soulful sisterhood, nurturing a unique sound, through ethereal vocal harmonies and storytelling lyrics. Rooted in authenticity, childhood friends, Amy and Lily, have grown the project from performances at open-mic nights and BBC Introducing sessions, to having been included in Glastonbury's Emerging Talent 2020 longlist. In 2021, Sunflower Thieves opened for Flyte on their UK tour, before releasing the much anticipated debut EP, 'Someone To Be There For', in 2022, which was met with huge support from BBC Radio 1's Sian Eleri, 6Music's Steve Lamacq, revered tastemaker, Tom Robinson, Radio Scotland's Ricky Ross and Roddy Hart, and BBC Introducing's Emily Pilbeam.
Harrison Mayo

Harrison Mayo is an emerging Alternative-R&B/Pop artist residing in London. He's fully independent and has over 10.5k monthly listeners and over 1.5 million streams across Spotify and Apple Music. The artist has been supported by Capital XTRA, Jamz Supernova on BBC 1XTRA, BBC Introducing as their Track of the Week and was featured on New Music Friday, Soultronic and Just Chill Spotify editorial playlists. He was also highlighted on Notion's Online Magazine for their Fresh Face feature.Mayo's total media reach to date amasses to over 2.27 million.
Jamie Cooke

Growing up in a small town just outside of Watford, North-West of London, Jamie is a songwriter and vocalist, writing bits of his life in a journal to then go back to and use as lyrics. Inspired by artistic powerhouses such as Amy Winehouse, Frank Ocean, Tom Misch and Anderson Paak, Jamie wrote and released his debut single 'Go Slow' in 2020. Jamie found the confidence to fully explore his voice and songwriting ability, giving himself time and removing the pressure. Jamie crafts snapshots of love, lyrics making listeners feel instantly soothed, this paired with the warm tones of his vocal range Jamie Cooke is most definitely one to keep an eye on with an upcoming debut EP.
Liz Cass

Liz recently made her solo debut with 'The Words' – an emotive, 12-track alt-pop album. Awarded 4* by the The Times, who heralded "the arrival of a new – but grown up – talent" and made vocal comparisons with Kate Bush and Lana del Rey. Cass's musical trajectory has taken many twists and turns. She penned her first song in her teens with Grammy winning producer Fraser T. Smith, spent some 8 years as a Jazz vocalist and went on to co-write and feature as a dance artist with some of electronic music's finest, racking up over 20 million streams worldwide.
DOORS OPEN: 19:30