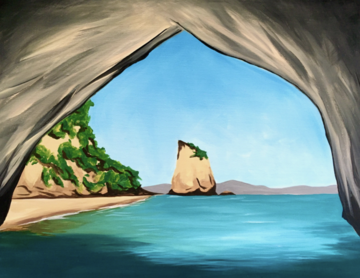 Cathedral Cove @ Star of Kings
Tue 30th Nov
7:00 pm - 9:00 pm
London's Favourite Paint and Sip is now at the Star of Kings. Grab your friends and join us for an evening of laughter, drink and paint. No artistic experience required!
Paintvine is the perfect blend of creativity and conversation. Drink a glass of wine as you create a painting — you'll always leave the event with more than just a buzz. One of our expert Paintvine artists will lead the session with step-by-step instruction and plenty of room for your own personalised touches. It's okay if you've never painted anything but your walls—there's no experience necessary and fun is our only requirement!
Paintvine provides all the necessary directions and guidance from one of our skilled artists as well as all painting supplies including canvas, paint, and brushes. We also provide every guest with an apron, but wearing clothes you don't mind getting a drop or two of paint on is still recommended.
While we're super excited to be painting the beautiful Cathedral Cove at Tuesday's event, the great thing about Paintvine is the freedom to create a unique painting of your own. You're welcome to follow along with the artist or go your own way and create a one-of-a-kind. Add your own colours, shape, or textures to your painting to suit your home decor or personal preference, it's totally up to you! You'll be pleasantly surprised at how everyone's paintings turn out, and the best part is you get to take your masterpiece home with you to keep!
We'd love to see you there, so if this sounds like fun to you, book your tickets at https://paintvine.co.uk. Book six tickets for the price of five, using code '645' at checkout!
After that, simply head down to the Star of Kings on Tuesday the 30th of November grab yourself a drink, and settle in for a great evening.